The unicorns were the most recognizable magic the fairies possessed,
and they sent them to those worlds where belief in the magic was in danger of failing altogether.
After all, there has to be some belief in the magic,
however small, for any world to survive.
~Terry Brooks, The Black Unicorn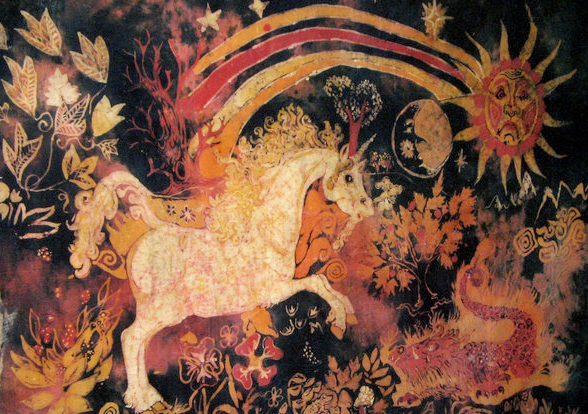 What are scientific revolutions, and what is their function in scientific development? Why should a change of paradigm be called a revolution? In the face of the vast and essential differences between political and scientific development, what parallelism can justify the metaphor that finds revolutions in both?
One aspect of the parallelism must already be apparent. Political revolutions are inaugurated by a growing sense, often restricted to a segment of the political community, that existing institutions have ceased adequately to meet the problems posed by an environment that they have in part created. In much the same way, scientific revolutions are inaugurated by a growing sense, again often restricted to a narrow subdivision of the scientific community, that an existing paradigm has ceased to function adequately in the exploration of an aspect of nature to which that paradigm itself had previously led the way. In both political and scientific development the sense of malfunction that can lead to crisis is prerequisite to revolution. Furthermore, though it admittedly strains the metaphor, that parallelism holds not only for the major paradigm changes, like those attributable to Copernicus and Lavoisier, but also for the far smaller ones associated with the assimilation of a new sort of phenomenon, like oxygen or X-rays. Scientific revolutions, as we noted at the end of Section V, need seem revolutionary only to those whose paradigms are affected by them. To outsiders they may, like the Balkan revolutions of the early twentieth century, seem normal parts of the developmental process. Astronomers, for example, could accept X-rays as a mere addition to knowledge, for their paradigms were unaffected by the existence of the new radiation. But for men like Kelvin, Crookes, and Roentgen, whose research dealt with radiation theory or with cathode ray tubes, the emergence of X-rays necessarily violated one paradigm as it created another. That is why these rays could be discovered only through something's first going wrong with normal research.
This genetic aspect of the parallel between political and scientific development should no longer be open to doubt. The parallel has, however, a second and more profound aspect upon which the significance of the first depends. Political revolutions aim to change political institutions in ways that those institutions themselves prohibit. Their success therefore necessitates the partial relinquishment of one set of institutions in favour of another, and in the interim, society is not fully governed by institutions at all. Initially it is crisis alone that attenuates the role of political institutions as we have already seen it attenuate the role of paradigms. In increasing numbers individuals become increasingly estranged from political life and behave more and more eccentrically within it. Then, as the crisis deepens, many of these individuals commit themselves to some concrete proposal for the reconstruction of society in a new institutional framework. At that point the society is divided into competing camps or parties, one seeking to defend the old institutional constellation, the others seeking to institute some new one. And, once that polarisation has occurred, political recourse fails. Because they differ about the institutional matrix within which political change is to be achieved and evaluated, because they acknowledge no supra-institutional framework for the adjudication of revolutionary difference, the parties to a revolutionary conflict must finally resort to the techniques of mass persuasion, often including force. Though revolutions have had a vital role in the evolution of political institutions, that role depends upon their being partially extrapolitical or extrainstitutional events. Like the choice between competing political institutions, that between competing paradigms proves to be a choice between incompatible modes of community life. Because it has that character, the choice is not and cannot be determined merely by the evaluative procedures characteristic of normal science, for these depend in part upon a particular paradigm, and that paradigm is at issue. When paradigms enter, as they must, into a debate about paradigm choice, their role is necessarily circular. Each group uses its own paradigm to argue in that paradigm's defence.
The resulting circularity does not, of course, make the arguments wrong or even ineffectual. The man who premises a paradigm when arguing in its defence can nonetheless provide a clear exhibit of what scientific practice will be like for those who adopt the new view of nature. That exhibit can be immensely persuasive, often compellingly so. Yet, whatever its force, the status of the circular argument is only that of persuasion. It cannot be made logically or even probabilistically compelling for those who refuse to step into the circle. The premises and values shared by the two parties to a debate over paradigms are not sufficiently extensive for that. As in political revolutions, so in paradigm choice – there is no standard higher than the assent of the relevant community. To discover how scientific revolutions are effected, we shall therefore have to examine not only the impact of nature and of logic, but also the techniques of persuasive argumentation effective within the quite special groups that constitute the community of scientists.
***
IX. The Nature and Necessity of Scientific Revolutions
by
Thomas Kuhn
(1962)
Programming by
DPC




There is no Bodhi-tree,
Nor stand of mirror bright,
Since all is void,
Where can the dust alight?

~Hui-neng, "Hon-rai mu-ichi-motsu"